2023 Course Info
· Session 1: 9/1-9/3
· Session 2: 9/28-9/30
· Max. Size: 4
· Guide:
Paul Sveum
· Tuition: $850
3 Full Days Of On The Water Guiding

Note: When you register you will be sent a Paypal invoice from the instructor. Please do not send a check or Paypal funds – wait for the invoice.
---
Expand Your Skills On A Legendary Maine Waterway

Note: Please contact Paul Sveum directly regarding this course. His phone and email is on our Contact page.
Designed for those who have taken our Introduction to Fly Fishing Course or who have a working knowledge of fly casting, knots, fly selection and river reading, this 3- day course is the next step towards proficiency on the water.
Based out of a remote Maine campsite just above Big Eddy on the West Branch of the Penobscot river, this class gets you on the water every day learning advanced casting techniques including single handed spey casts, reach casts and single and double hauls to give you more versatility and range on the water.
You will learn to tie knots specifically for streamers, rigging multiple fly (nymph) rigs, and adding tippet to a leader. On the water you be fishing the big water of the Penobscot for landlocked salmon and native Maine brook trout with streamers, dry flies, wet flies and nymphs.
Included in the course fee are 4 nights of camping, all instruction and on the water guiding for 3 days, some fly fishing odds and ends (leaders, strike indicators, tippet and some flies*), and 2 dinners (Friday and Saturday nights).
*Hand tied selection of flies perfect for the fishing we'll be doing are for sale by Paul upon request. Cost ranges but average $3 per fly. Contact Paul if you'd like a buy a box of flies for the course.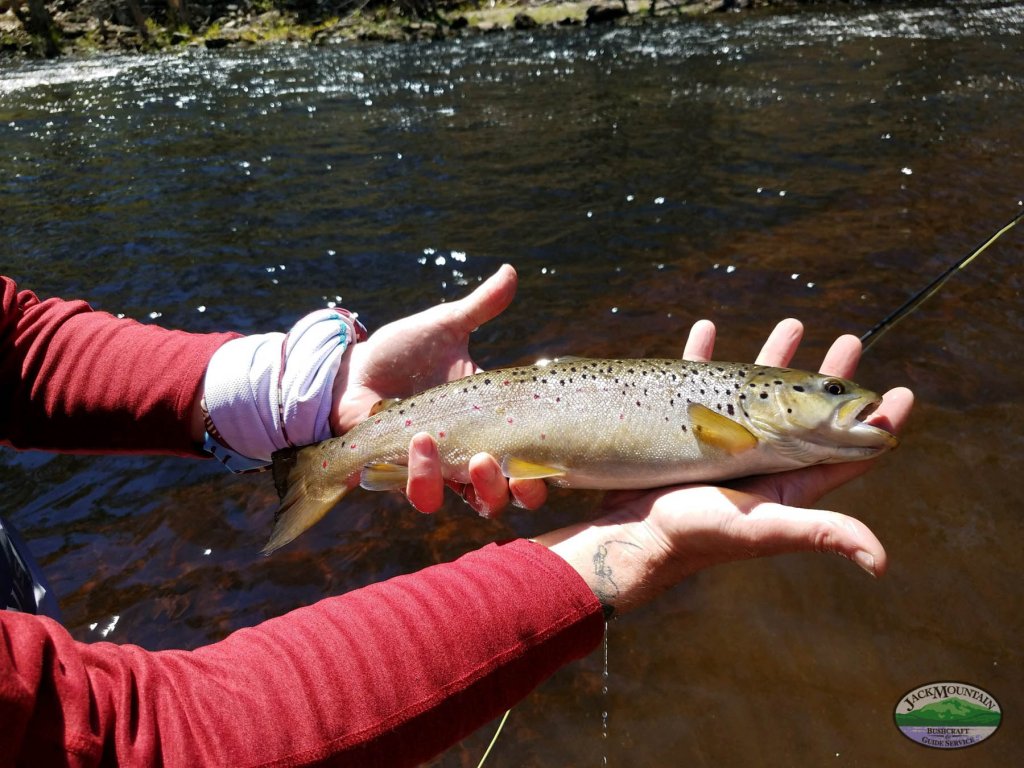 Meals:   We will provide 2 dinners for the course, the rest of the meals are your responsibility. I recommend keeping food simple so we won't spend too much time in camp.
Fishing Gear:   I have a few rods/reels for rent for $75 for the weekend. Otherwise you'll need to provide your own, I'd recommend a 5-8 weight, 9-10 foot rod and a reel/line to match. You'll mostly be fishing floating lines so you'll want a good weight forward floater for the weekend. If you want to get your own flies, I'd recommend going to Maine Sport Outfitters in Rockland to buy them, just let them know you're in this class and they can help you out.
Accommodations:   Tent camping. Cabins available nearby.
Cancellation and Refund Policies:   Please visit our School Policies page for information on all of our policies.